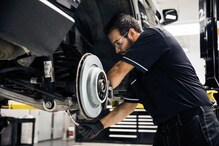 Get to Know Our Expert Service Center in Flushing, MI
Have you been hearing a strange noise coming from your brakes? Maybe a new light on your dashboard just appeared? Perhaps you're just shopping around for a service center you want to stick with for all future appointments? No matter what you and your vehicle require, Joel's Carz has your back. Our expert team of service technicians is highly trained and ready to help you with a tiny repair, a routine appointment, or major post-collision damage.
What We Can Do
Our team of technicians has decades of combined experience. They are familiar with all makes and models, so we can care for your vehicle, no matter its year, manufacturer, driveline, or trim level. We have worked on heavy-duty, commercial-style trucks and subcompact hatchbacks in the same day-so truly, the sky is the limit. We can also offer up a menu of options for our local drivers in the Morris, MI region. Some common reasons you might seek service from us include:
A routine service appointment for an oil change, tire rotation, or general check-up
A diagnostic appointment if you hear a strange noise, are getting an alert, or fear something may be wrong
An estimate following major damage to your vehicle in a collision or another internal failure
A detailed and intensive repair that adheres to our estimation following a collision
A customization appointment where we attach a new accessory, make a change to your vehicle's appearance, or replace a specific part
Some of the Most Common Types of Service Your Vehicle Might Need
We've collected a list of common much-needed services or repairs that your model might need. We can easily help you with any of these services in no time if you make a quick appointment with our expert team:
Fluid refills
Accessory add-ons or parts replacements
Battery test and replacements
The Benefits of Routine Service
When you stick to a regimen with your routine service appointments, you'll be taking care of your vehicle the way it was intended. At the start of your car ownership experience, you may only be recommended to come in for service once a year, but the older your vehicle gets, the more attention it requires. Sticking to this schedule does a couple of things. For one, you'll find that any potential problems are caught early. If you drive around Morris, MI, waiting for something to go wrong, you're likely to run into a more costly and intensive repair than if you came in for regular service and it caught it early. Routine service is also a great way to maximize the life of your vehicle. Caring for it pays off, and when you choose a team who puts your vehicles' health at the top of their priority list-there's more than one person caring for the life and longevity of your model.
Book Your Appointment and Navigate to Our Location near Grand Blanc, MI
Eager to start doing business with your local Joel's Carz dealership? We have a fantastic team of experts who can care for everything from collision repairs to basic oil changes and other routine service needs. To learn more about us, give us a quick call, or simply get your service appointment on the books by setting a date online. Need directions? You'll find us in the heart of Flushing, MI, not far from local hotspots like Grand Blanc and Morris.